Career Change CV Service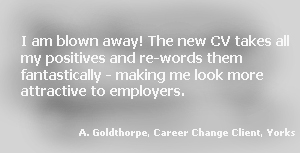 Whether you are looking to move up the career ladder, step sideways, or even downscale changing career is always the most difficult move to make, and career change CVs are the hardest of all to write - especially since you need to come at them from a completely different angle.
Our Specialists
However, our specialists are vastly experienced in helping would-be career movers achieve their goals. We can help you too.